Thirteen years ago I moved into an apartment at Rick's college with these five girls. Allow me to introduce you to: Marnie, Martha, Laura, Brittany, and Annie. I met most of them at the end of my first year at Rick's and then halfway through my second year, there was an opening in their apartment and I got myself right in. I was hanging out at their apartment more than my own, so it made sense that I should just move in. These girls are so amazing- I am so lucky to call them my friends!! I can't believe we only lived together for four months. This picture was taken when my mom came up for mother's week. I wish I held onto that turquoise lamp.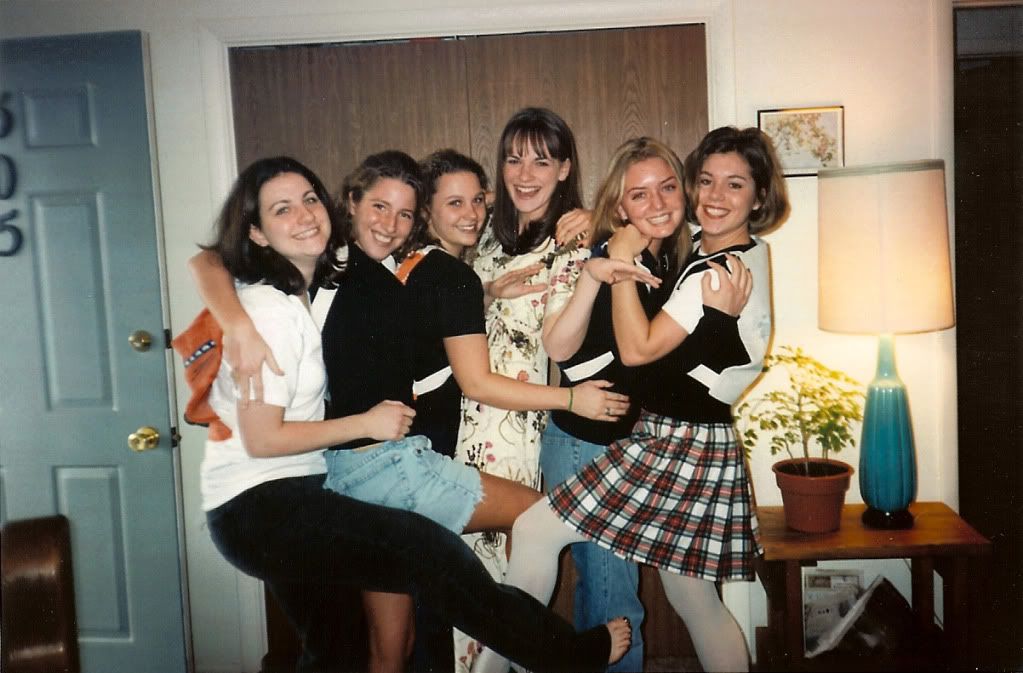 Through the years we've kept in touch with each other- mostly on Facebook. The lucky ones that live in Utah, Nevada, and California get to see each other more often than Marnie and I do. (Marnie lives in Canada.) We've been having little "mini-reunions" every once in a while with whoever was around ever since Ricks, but the last time we were all together was sometime in 2000. The last time I was able to see any of them was about seven years ago. Amazingly, we were able to get everyone is Las Vegas a couple of weekends ago for a reunion. It was so much fun. I can't believe how little sleep I got. I stayed with Jill in Kansas City the night before I flew out (thanks Jill!) and got up the next morning at 2 AM Las Vegas time and stayed up until 2 AM the next day just talking and laughing with my roommates. That was the first and probably only time I stayed up for 24 consecutive hours! We checked in at our hotel- one of those Marriott villas with a few bedrooms and a nice comfortable sitting area and kitchen- and then we headed to the mall. A few of us were hungry so we went to the food court and grabbed some food. We sat there in the food court after we finished eating and talked for two or three hours. It was so much fun! And sort of hilarious after flying all that way to get to Vegas and just sit in a food court. But it was perfect! My favorite part of the trip was the talking- the conversation never stopped. If I had to get up to use the restroom, I always came back and asked what I missed. The last night I fell asleep on the couch for an hour or two and I was so mad at myself because of everything I missed while I was sleeping. We didn't do a lot that was Vegas-specific, which was fine by me. I can totally understand why my friends who live there avoid the strip. Yikes. But even though we didn't visit any clubs or casinos, the famous mantra of Sin City- "What happens in Vegas stays in Vegas"- still applies to our weekend because I can't repeat the things that were said on this trip! Some of them would be too shocking! I'm laughing right now just thinking about them.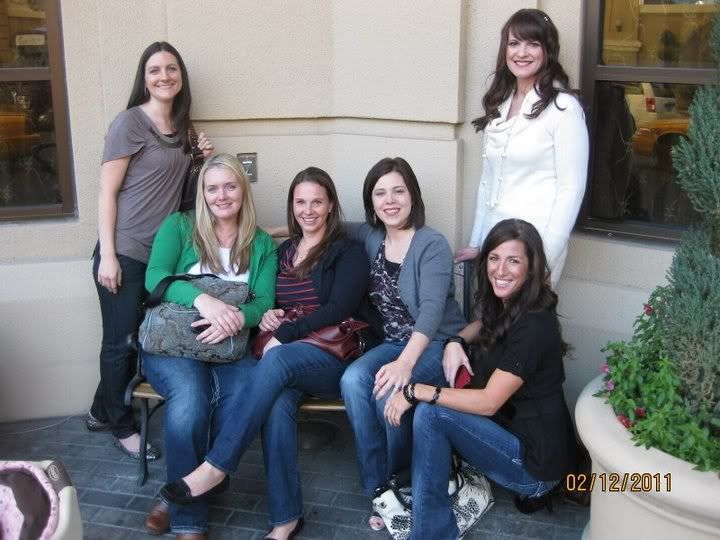 Our second day there we did some more shopping- the weather was gorgeous! Then we all ate out at Cheesecake Factory. We stayed up until the early hours of the next morning to get a few hours of sleep before we all had to go our separate ways.
I feel the need to explain my subject. Right before we all separated, we went to Whole Foods to grab some salads so we would have something to eat on the way home. We sat for a bit before we had to get Annie to the airport so we could talk some more. (For all the time we spent talking, I can't believe how many things we
didn't
get around to talking about- I can't wait for the next reunion!) Laura came up and shared with us a conversation she heard while she was grabbing some white cheddar popcorn: An old lady said to her husband, "What does this say?" He holds up the bag and says, "Something about Pirate's Booty." Okay, now here I need to include how much I love Laura's voice. It's just very smooth and has a nice tone to it, but I think mostly because it's such a big reminder of that very special time in my life. Laura was the first one in the group that I met, so I have her to thank for introducing me to this amazing group of girls. She also has this funny way of saying something really dramatic in a very cool, calm way. Like "I'm going to pull my hair out!!!" which most of us would say in a loud and intense way. Not Laura- no, she would say it nice and slow and calm. Her delivery is perfect. Anyway, so she impersonates this old man saying, "something about pirate's booty."
I think you had to be there.
I could go on and on with stories like this about each of these wonderful girls. I love all of them so much. I am so glad we did this. What a perfect weekend. Now here's some more pics from our time together:
The infamous food court. Marnie had us laughing pretty hard with all her stories. Oh how I love to listen to her talk! She can go for hours and I just love the way she puts things. Laura hadn't joined us yet because she had sick kids at home to take care of and her tire blew out on the freeway! I'm so glad she was able to come in spite of so many obstacles.
Love this cute picture of Annie and Laura. Oh we also ate a lot of crap while we stayed up talking. It was awesome.
Group shot- took a lot of organizing and primping and furniture rearranging, but we got it done!
Marnie, me, and Martha, right after Brittany picked us up from the airport. One of my favorite memories of Martha from this trip is when she came bouncing toward Annie and I at the airport. She was so excited to see us. It made me feel so good!
This is such a great picture of Martha and Laura.
Brittany, Jessica, and Martha. Jessica was our friend at Ricks who also lives in Las Vegas, so we asked her to come eat with us at the Cheesecake Factory. It was so great to see her! I loved that I got to meet Brittany and Annie's cute babies.
After we ate at Cheesecake Factory, we decided to walk home so we could see a little bit of Vegas. That wasn't such a great idea. We kind of realized that there was a lot to Vegas that we didn't want to see. Oh well. I did see these storm troopers and since the girls love Star Wars, I thought I'd embarrass myself and get my picture taken with them. The morning after my trip I showed the girls this picture on my camera and Sophie said: "Who are those guys?" Franny, clearly not impressed, said: "They're storm troopers." Ha! Oh well. Good thing I don't embarrass easily.
Coming home was a bit of a shock. I was thrilled to see Bobby and the girls. It was so hard to leave my baby Claire! But the day-to-day stuff- laundry, cooking, putting myself to bed on time- was kind of a challenge. But obviously it was worth it.