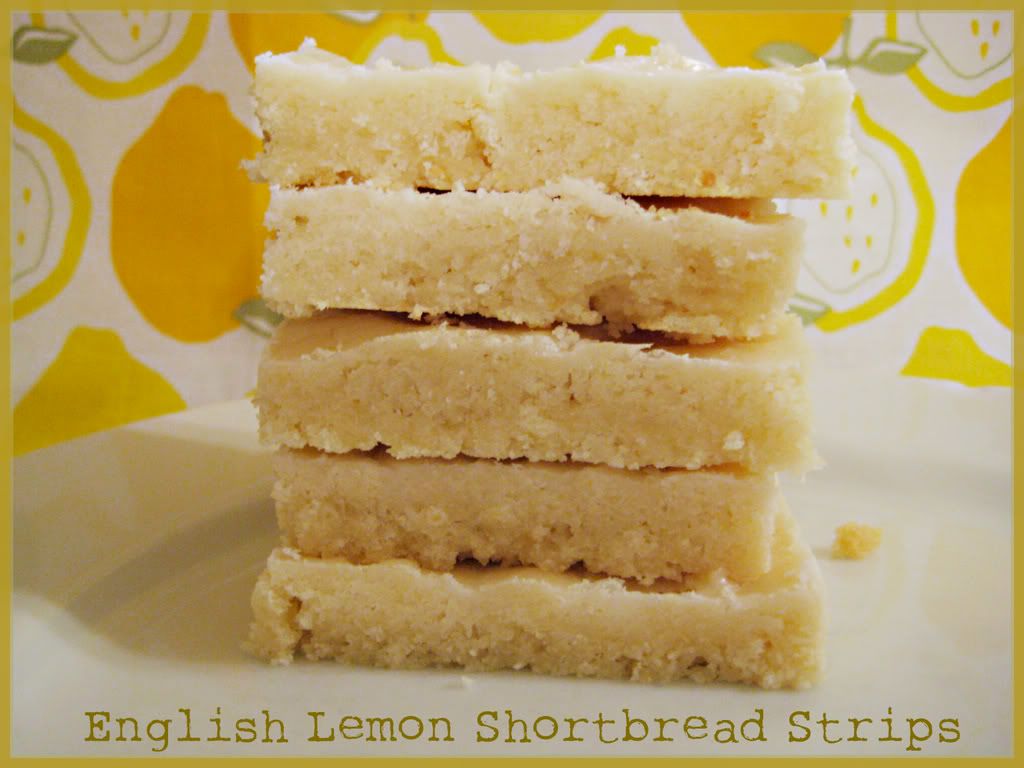 I have a weakness for shortbread. Every time we go to Panera, Bobby and I have to order a shortbread cookie. So when I linked to this new cooking blog from Sara's Kitchen, I knew I was in trouble. They are so amazing. It reminds me a little of my mother's butter cakes. Bobby loved them, too. I'll definitely be making these again, but only when there are lots of opportunities to share them with others. I keep making myself sick by eating too many.



English Lemon Shortbread Strips

from Cooking in the Country
(I actually cut this recipe in half. That was a good choice on my part.)


For the dough
4 1/2 cups all-purpose flour
1 teaspoon salt
1 cup granulated sugar
1 tablespoon plus 1 teaspoon fresh grated lemon zest
1 pound (4 sticks or 32 tablespoons) unsalted butter, softened
1/4 cup fresh lemon juice
For the glaze


1 cup confectioners' sugar
2 tablespoons butter, softened
2 tablespoons fresh lemon juice
1 tablespoon fresh grated lemon zest
To prepare the dough
Preheat oven to 350 degrees.
In a medium bowl, whisk together flour and salt.
In a large mixing bowl, add sugar and zest - use your fingers to massage the zest into the sugar until very fragrant and combine. Add butter and beat mixture together until smooth. Add juice and mix until combined and creamy, making sure to scrape down the sides as needed. Add flour mixture and beat just until the mixture resembles coarse crumbs. Scoop mixture into a 10" x 15" baking pan coated with nonstick spray. Place into the oven and bake until the top is lightly golden, about 25 to 35 minutes. Remove and place pan on a wire rack to cool completely.
To prepare the glaze
In a small bowl, whisk together confectioners' sugar, butter and lemon juice until smooth. Spread glaze over the cooled shortbread and sprinkle with lemon zest, if desired. Set aside and let stand at least 30 minutes before cutting.
Makes about 40 cookies.