Chocolate Truffles
I saw this on Martha Stewart one day and my mouth just filled with saliva. Butter, cream, and chocolate. Yes, please.
Ingredients
Makes 117 truffles.
24 ounces bittersweet chocolate, finely chopped, preferably Valrhona Manjari
8 ounces milk chocolate, finely chopped, preferably Valrhona 42 percent
1 1/3 cups heavy cream (not ultra-pasteurized)
1 vanilla bean, scraped
11 tablespoons unsalted butter, room temperature
2 cups cocoa powder (not Dutch processed), preferably Valrhona, for rolling
Directions
Line a 13-by-9 1/2-inch rimmed baking sheet with plastic wrap; set aside.

In a heatproof bowl, set over (but not touching) simmering water, melt 8 ounces bittersweet chocolate and milk chocolate together until it reaches 120 degrees.

Place cream, vanilla bean, and seeds in a small saucepan over medium heat; heat until cream just comes to a boil. Remove from heat. Let cream mixture cool until reaches 120 degrees; remove vanilla bean and discard.

Remove chocolate mixture from heat and add to cream mixture. Using a heatproof spatula, mix together, starting from the center of the saucepan and working your way to the outer edges until mixture is emulsified. Add butter and mix with an immersion blender until well combined. Pour mixture into prepared baking sheet, evenly spreading mixture with an offset spatula; cover with plastic wrap, pressing down gently on chocolate mixture to prevent a skin from forming. Refrigerate at least 2 hours, and up to overnight.

Line the back of another 13-by-9 1/2-inch baking sheet with parchment paper. Uncover chocolate and invert onto parchment paper; remove second piece of plastic wrap. Using a pizza cutter or sharp knife, and a steel ruler as a guide, cut chocolate into 1-inch squares.

Line a baking sheet with parchment paper; set aside. Roll each square of chocolate between your hands to form a smooth ball. Transfer chocolate balls to baking sheet; refrigerate for 1 hour.

Melt remaining 16 ounces bittersweet chocolate in a heatproof bowl, set over (but not touching) simmering water. Place cocoa powder in a shallow dish. Place some of the melted chocolate in the palm of your hand and roll a chocolate ball in the melted chocolate to coat, then roll in cocoa powder. Repeat process with remaining chocolate balls. Transfer truffles to an airtight container, stacking truffles no more than 2 to 3 inches high, and refrigerate up to 2 weeks. Bring truffles to room temperature just before serving.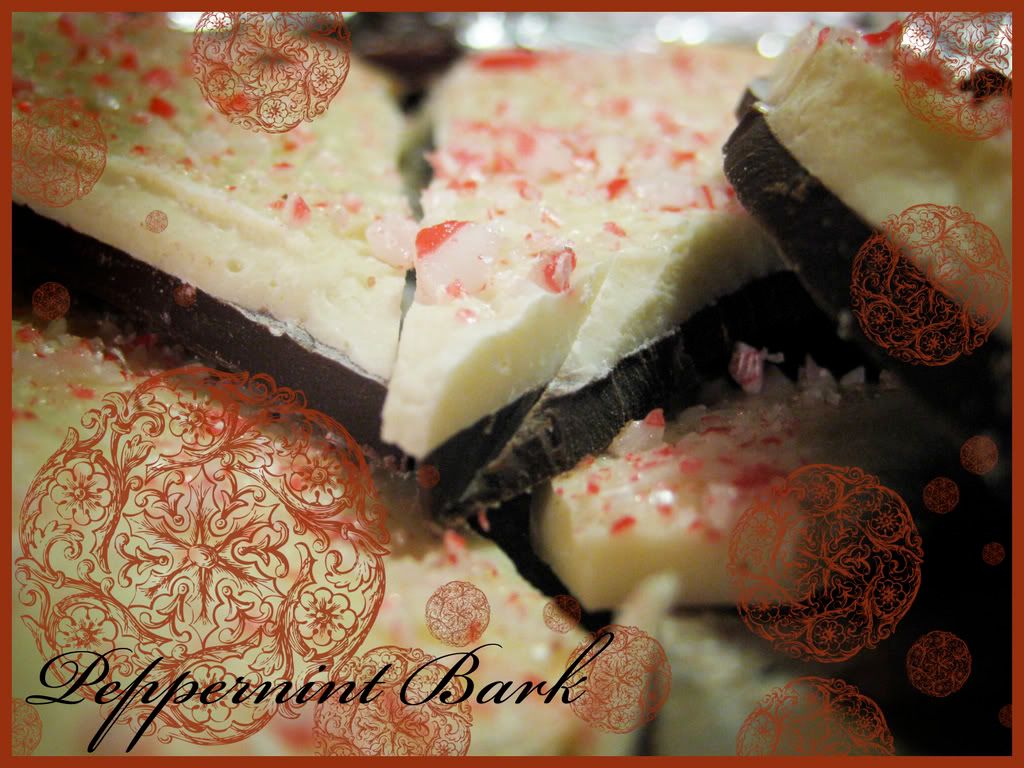 Last year my friend Natalie invited us over to try and recreate the Williams Sonoma peppermint bark. We were so pleased with the results. I made it again this year and I couldn't find Natalie's recipe, but I found this one and I think it's basically the same.
Peppermint Bark
12 oz chocolate chips (bittersweet is best I think)
1 pound white chocolate chips
1/2 teaspoon peppermint extract or 1/8 tsp peppermint oil
1/2 cup peppermint candy, crushed

Preheat oven to 250. Line a 9x13 pan with foil, letting it hang over the sides. Spray foil. Pour the chocolate chips in an even layer on the foil. Place in oven for 5 minutes or until almost melted. Remove from oven, smooth with an offset spatula or knife. Place in refrigerator until cold and firm, about 20 minutes.
Melt white chocolate chips in a double boiler or in a metal bowl over simmering water (don't let bottom of bowl touch water), until chocolate is almost melted. You can use your microwave for this if you're brave! Remove bowl from water and stir until completely melted, stirring in extract. Let cool a little bit so it doesn't melt the chocolate layer when you pour it on top. Pour this over chocolate layer, and, working quickly, spread to cover. Sprinkle with crushed candy.
Chill until both layers are firm. (At least all day before you try and break it into pieces. Otherwise the layers will not stick together.) Lift foil out of pan and shake off excess candy. Trim edges. Cut into 2" wide strips. Peel bark from foil and cut each strip as desired. Chill in covered container. Makes about 2 pounds.