Look, I know everybody is trying to eat healthier now that the holidays are over, myself included, but if I don't get these recipes up now then I never will. I know I'm tempting you now but you'll thank me next year when I have an organized section on my blog where you can find all my holiday recipes!
During the holidays I never like to stray too far from the traditional family favorites. I decided on my Dad's green beans with bacon, my Mom's Christmas orange rolls, and raspberry pretzel jello. I used to feel a little embarrassed about serving raspberry pretzel jello. I think because it's a casserole dish and the name of it makes it sound like a relative of "funeral potatoes." I don't care anymore. I'll say it loud and proud. I LOVE RASPBERRY PRETZEL JELLO! That felt good.
Wes and Jen (Bobby's brother and his wife) shared one of their traditions with us on Christmas day- a delicious Chicken Cordon Bleu with a rich and creamy sauce. When we were planning the menu on the phone, I suggested we serve a ham on Christmas Eve, so we could use the ham in the Chicken Cordon Bleu the next day. Anyway, It was perfect not only for Christmas Dinner, but also the day after Christmas when Wes made omelettes for us. I probably don't even need to say this but I did not take this pictures. My talented sis-in-law Jen took them. I look at these pictures and I feel a little sad because my own attempts at food photography are pathetic in comparison. Jen, thanks so much for sending these pictures!
Mmmm... I sure am missing all the delicious leftovers.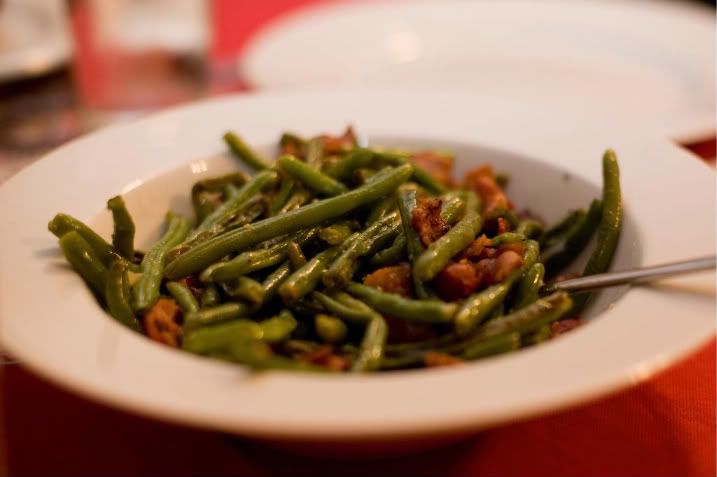 Dad's Green Beans with Bacon
6 or 7 slices of bacon
1 large bag of frozen green beans (I like to use the steamer bags)
freshly squeezed lemon juice
1 tsp garlic, minced
Prepare green beans according to directions on bag. Cut bacon into 1 inch pieces. Fry in a large skillet until crisp. Add green beans and garlic and cook in bacon grease. (If there is an excess of bacon grease, drain some of it off. Just don't send it down the drain!) At this point Dad likes to sprinkle lemon juice over the top. Maggie likes to add a little bit of minced garlic, maybe 1 teaspoon.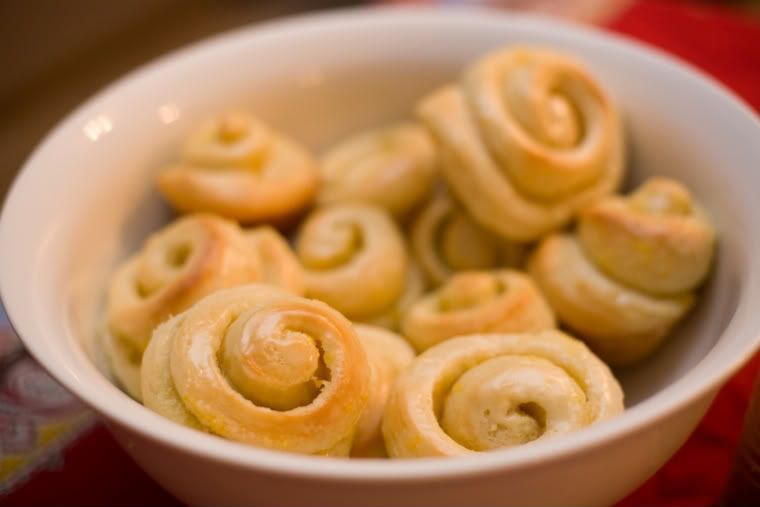 Orange Rolls
Your favorite roll recipe. Make the dough at let it rise until doubled:
1 c butter, softened
1 1/2 c sugar
rind of 2 oranges, grated
juice of one orange
enough powdered sugar to make a thick glaze (3 cups?)
To make orange rolls, take dough out of refrigerator three hours before baking. Roll out into a 1/2 inch thick rectangle. Spread softened butter over dough. Mix sugar and orange rind together and sprinkle over butter. Starting with the end of the rectangle, roll up, jelly-roll style. Cut into 1-inch slices using a long piece of floss. Feed it under the roll and take each end of floss and tie a knot right through the roll for a clean slice. Bake for 18 minutes at 350 degrees in a greased muffin tin and drizzle with orange glaze.