The girls started their school year and so far things are going great. From what I can tell, they seem to have excellent teachers and are enjoying their classrooms. The first day of school Franny came home from a letter from her teacher asking me to tell her about Franny in "a million words or less." I liked her immediately. Today Sophie's teacher said, "I'm sure you know how bright and what a delight Sophie is in the classroom." I hoped as much, but it's always nice to hear. It's been two weeks now and Sophie just wore a pair of shorts yesterday for the first time. She only wants to wear skirts or dresses.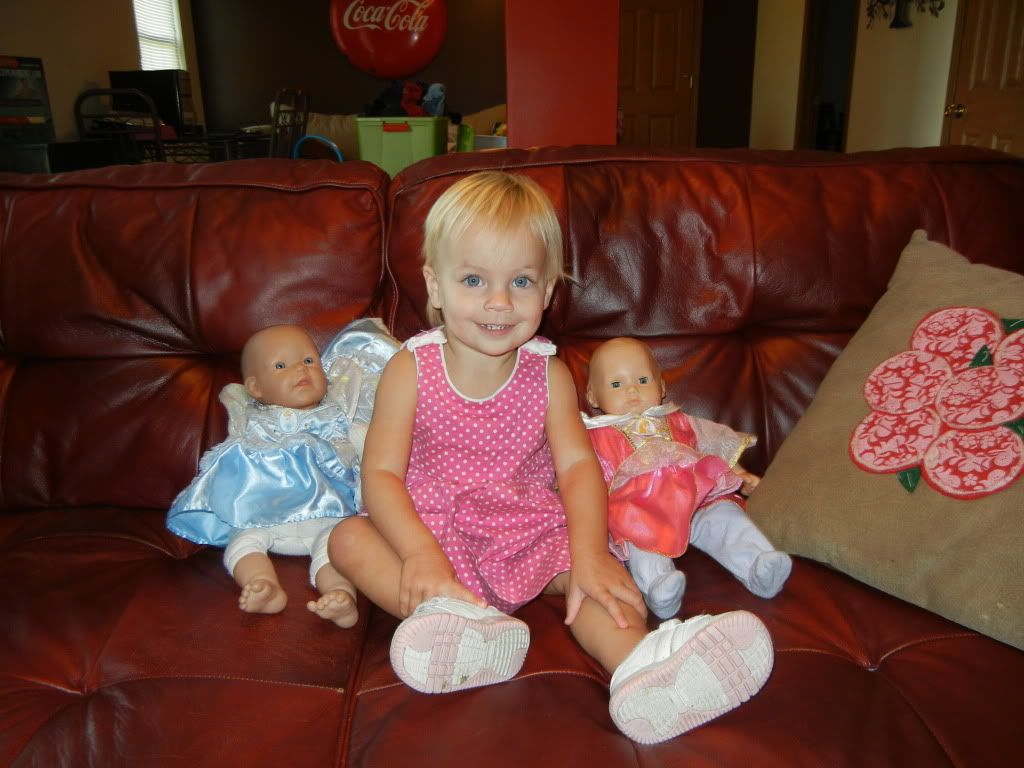 As for Claire, I'm really enjoying the one on one time I have with her and I think she is, too. We go on a walk together every morning, then we come home and she watches Elmo (she calls it "Elwo") while I get organized and cleaned up for the day. She has become very attached to Sophie and Franny's dolls. She has about four baby dolls she carries around and she calls them all "Baby Sue." She started pushing them around in this triplet toy stroller we found at a garage sale this summer. It is the cutest thing! Today she wanted them to come with her to watch "Elwo." Here she is giving them both a hug-
And this is the face she makes when she talks about them. She scrunches her face up like she might cry and says, "OH! BABY SUE!!!"