Bobby and Justin had to fly out to Philadelphia this weekend for a test they had to take and so the girls and I thought we'd tag along so we could hang out with Ashley, Abbey, and Hayden for a fun-filled weekend. And that it was. I was so happy to finally get to see Hayden. What a sweet little baby!
The first morning we were there we went to see Grant's farm. Oh my gosh. It was so much fun. Jodie and Nora came along and Franny was so happy to see them! It was so hot. Like so hot that you think your face is going to melt off. Sophie was loving all the animals and Franny never really fully recovered from her brief encounter with the hungry goats we fed with a milk bottle. Poor Franny. :)
Then we found the camels. They were very sociable, standing right up at the gate and eating out of people's hands. He was looking right at Ashley and she saw a good photo opportunity so she asked Sophie and I to pose. Then, out of nowhere, the camel turns, opens his mouth and tries to eat our heads! It was crazy. Mind you, he has barely moved up until this point. Ashley took the picture at the perfect moment, simultaneously capturing me looking my best and the camel with his jaws wide open. It was hilarious!!
I left my stupid memory card at home so there were many photo ops missed by me. I wish I were posting tons of cute pictures of baby Hayden, that sweet little pixie Abbey, Franny and Nora on the train, Sophie's first time down a water slide by herself, and Franny's 100th time down a water slide by herself. (That day anyway.)
I did however have Ashley take a picture of a new dessert we tried. I saw this on the Barefoot Contessa a year or so ago and thought it might be fun to try.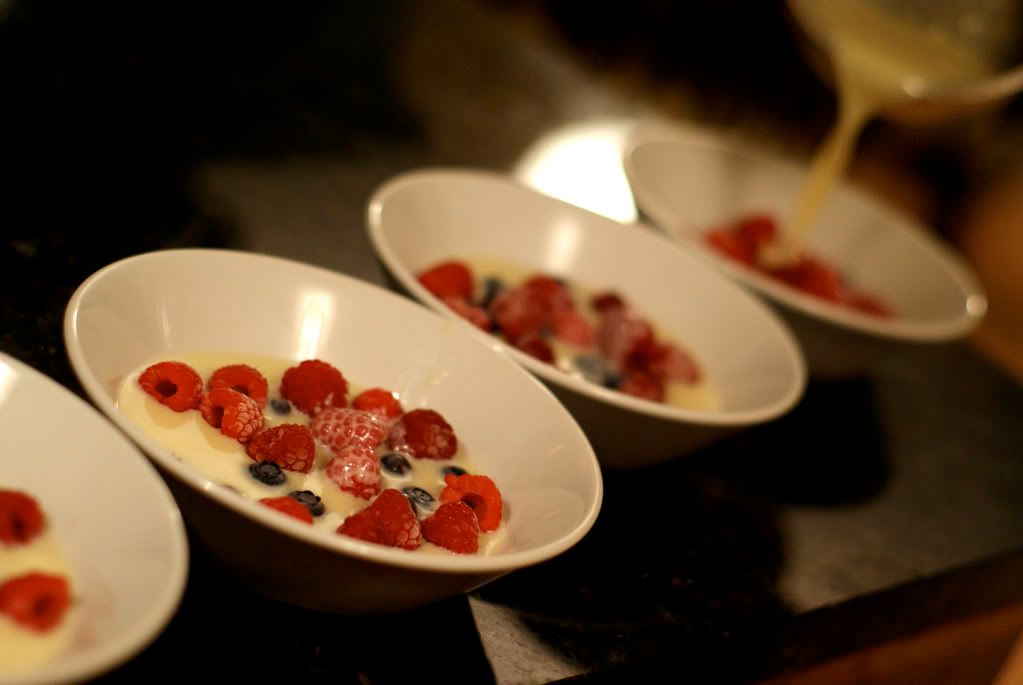 Frozen Berries with Hot White Chocolate
adapted from Barefoot Contessa at Home
2 half-pints fresh raspberries
2 half-pints fresh blueberries
1 cup heavy cream
10 oz good white chocolate, chopped (I actually just used ghiradelli chips, even though Ina says not to use chips)
1/2 tsp pure vanilla extract
Early in the day, spread the berries on a sheet pan in a single layer and place them in the freezer. (This prevents them from sticking together.) Once they're frozen, store them in a freezer bag.
Pour cream into a small saucepan and bring just to a boil. Remove from heat and pour in white chocolate and vanilla. Give it 30 seconds or so to start melting the chocolate and then stir until all the chips are melted and you have a smooth sauce. (You can also heat all of the ingredients together in a double boiler.)
Place the frozen berries in one layer on dessert plates and allow them to sit at room temp for 10 minutes to defrost slightly. Pour the hot white chocolate evenly over the frozen berries and serve immediately.