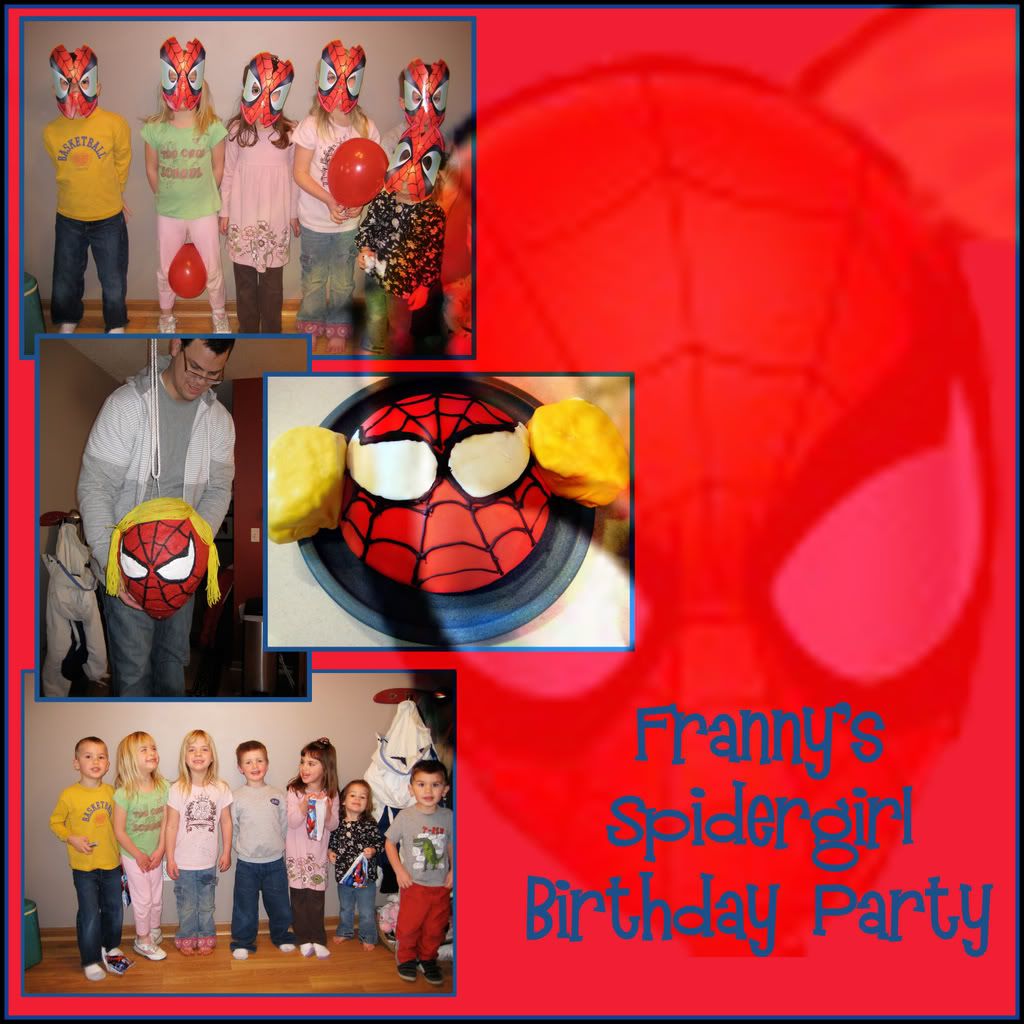 I don't know why it's taken me so long to get these pictures up. Franny's birthday went really well. She was so cute about the theme. She showed so much interest and enthusiasm in the cake, decorations, and invitations... it really made the whole thing worthwhile for me. She has already told me that she wants to be Spidergirl for Halloween this year.
We dropped Franny off at school where they treated her like a little princess all day. We sent her with cupcakes and they made her a crown. When we walked in that morning, it was almost like they were all waiting for her to get there. Ann said as we walked in, "There she is! There's the birthday girl!" All the kids in her class and most of her teachers made her a big stack of birthday cards, which she has looked at every day since. I love that school so much. Bobby was post on-call that day (with only two hours of sleep), and he was able to take Franny out to lunch at her favorite restaurant: McDonald's.
Meanwhile I was home decorating the house and making the cake. Franny walked in and she was so excited.
The party started with all the kids decorating a poster. I thought that might be a nice activity while we waited for all the guests to arrive and it worked out pretty well. I just cut the letters of their names out of the huge stack of scrapbook paper I have and glued them on to posterboard. I put out foam stickers, markers, glue, scissors, and crayons for them to use.
This is the only picture I got of Miriam. After the rope Bobby threaded through my homemade pinata ripped through the top, Bobby had to repair it and I sent them off to the playroom for a few minutes and we had a hard time pulling Miriam away from the toys after that. :)
Which brings us on to the pinata. I thought about just buying a Spiderman pinata at Walmart and gluing pigtails on to them. But the darn pinata cost $20 and I've made a pinata before. I was feeling ambitious and just thought I'd go for it. I was really happy with the results, but in retrospect, I think maybe the $20 would have been worth it. Here is a
link
to the directions I used to make the pinata. We do not own a baseball bat of any kind- but we do have a yardstick. So I had the kids use that to bust the pinata open. That worked out quite nicely. All the kids got two turns to swing at the pinata and then Jackson broke it open. He's a strong kid and we knew we could count on him. I was glad each kid got two turns, but I think they would have started to get bored if it took much longer. There's an art form to children's birthday parties that I have not yet mastered. You really need to be on your game and one step ahead of the next activity. So when the candy spilled all over the floor and the kids didn't have their little "Spidey party bags," I had to laugh at myself. Sigh.
So much to learn...
Then we had cake. This was my favorite part of the whole party. And maybe not why you think. Not because I love food, or because my cake looked great and everyone said so- no, it was because the kids all asked for a specific part of Spidergirl's head to EAT. Jack said, "I want to eat the hair!" The twins each wanted one of her "eyes." It was so funny!
After that it was time for presents. Franny was really excited for this part. Her friends brought such nice gifts. She loved them all and they have been her favorite toys ever since the party.
It was a great party. I remember last year after
Franny's 4th birthday
party telling myself I thought maybe this year we would skip a party. But kids LOVE birthday parties. And they don't have to be huge. So I went for it, hoping I could keep it pretty low-key. But then she picked a theme that has not been highly commercialized in the party supply market, and with the pinata, and the cake.... I was still exhausted when it was over. But we had a good time and made some great memories. So it was all worth it.