Franny has been in need of some pretty serious dental work for quite a while now. Actually last summer was when we first became aware that she needed to have some cavities filled. She had to have a crown put on, a tooth removed, a spacer put in and three cavities filled. We were referred to a pediatric dentist in Columbia and made the drive down early Friday morning. Bobby scooped the girls out of the car and put them in the van hoping they would just go to sleep. Instead they had a lot of questions. Sophie wanted to know why we were going to the dentist at night time?
About a half an hour into our trip we saw the sun beginning to rise and we were talking about the pretty colors and the horizon, etc. I realized I had forgotten to tell Franny's teacher she wouldn't be at school that day so I picked up my cell phone to leave them a message. (It was only about 6:45 AM.) Here's an idea of what that message sounded like:
"Hi, this is Katherine. My daughter Franny won't be at school today because she's having some dental work done in Columbia. Would you please let her teacher know she won't be there... Bobby, Bobby- there's a deer. Right there. Deer, deer, deer.... AAAAHHHHHHH!!!!! [Thud] Oh my gosh! Oh! Sorry about the drama, we just hit a deer with our car." Click.
Isn't that the funniest phone message ever? If I were working in that office, that message would have totally made my day. Seriously, I am such a spaz.
So anyway, back to the deer. Poor stupid deer. I saw the deer start running across the lanes of the highway from a pretty far distance. We had quite a bit of time to react, but as Bobby adjusted his speed with his breaks so that he could avoid killing a large and panicked animal, the deer adjusted her (we think it was a doe anyway) speed to match ours and was actually aiming for us. We felt like there was nothing we could do. The deer leaped at our car and hit the beam that separates the windshield from the driver's window. We're afraid that if our car was a second faster than where we were, he would have slammed through the window right into Bobby! While we recognize that "lucky" would have been not to hit any deer at all, we do feel very lucky that the none of us were hurt and the damage to the car was minimal.
Another fortunate thing for us was that a road worker pulled up about two cars behind us, turned on his hazards, and told Bobby he would move the deer for us. (The deer was still alive but struggling.) So Bobby got back in the car and we drove the rest of the way to see the dentist. So the morning started off pretty weird.
Franny had to be put under anesthesia again for the dental procedure. (She was just recently put under for a tonsillectomy that I have been meaning to blog about here. I'll get to it.) She did a lot better when she came out of it this time. They made her a little cocktail with Verced and something else to help calm her before separating her from us and putting her out. She's pretty cute when she's high. She said, "I loovveee you Moooommm...." with very slurred speech. She was stroking my hair and my face and looking up at me with a goofy smile. It was pretty cute. She was really annoyed with the spacer in her mouth at first, but she seems to have gotten used to it.
Later than night Bobby and I were in the office watching "The Office" when the girls came in. All of the sudden my calendar alerted me that our town's Daddy-Daughter dance was starting in 15 minutes. Bobby was pretty excited to take Franny, but she couldn't decide if she wanted to go. One minute she did, the next minute she didn't. It was a little frustrating, but we knew she must be tired. But Sophie said she did want to go, so the two of them went. I snapped this picture before they left: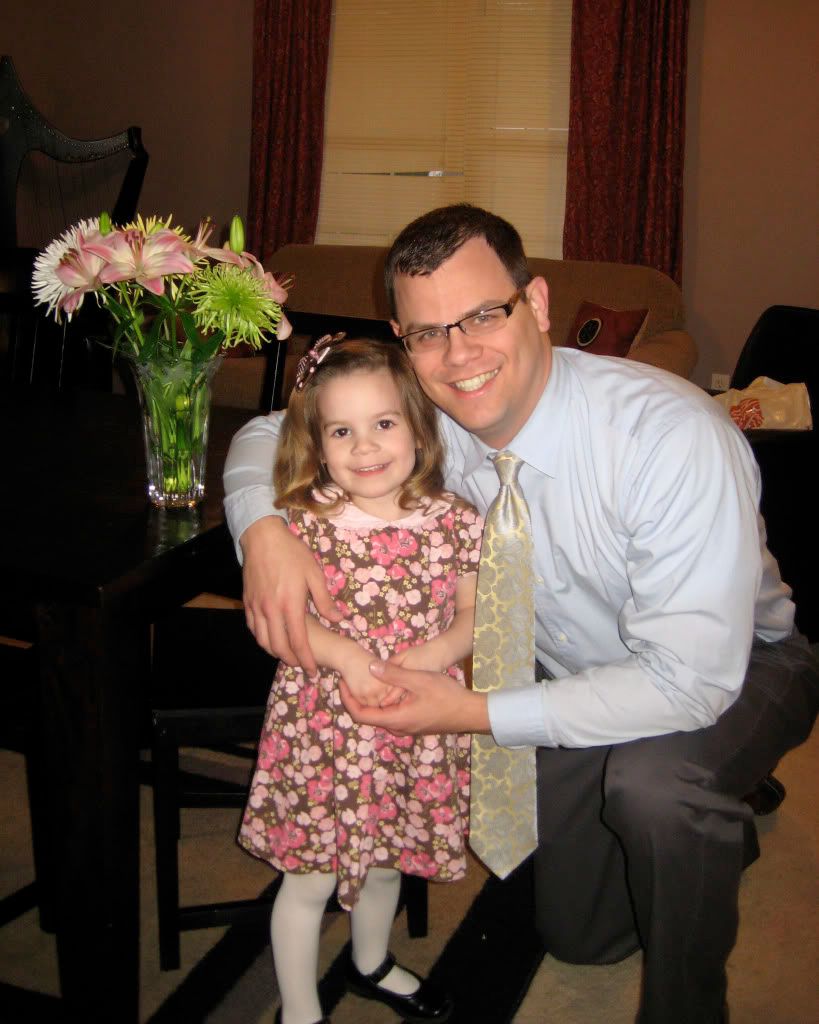 I could tell it meant a lot to Sophie to have that one on one time with Daddy. They were walking out to the car and Sophie said to Bobby, "Are we going on a date?" She was exhausted from waking up so early, so they weren't gone too long, but from what I hear there was plenty of Hannah Montana and Taylor Swift to dance to- just what Sophie loves. I have to say I was really grateful all day for Bobby- for coming with us to help with Franny's dental procedure and then that night for taking Sophie out at the last minute, before he had even had a chance to eat dinner. He was kicking back and relaxing in comfortable clothes, but as soon as he realized that Sophie really wanted to go he had a shirt and tie on in about five minutes. I just really like him a lot.