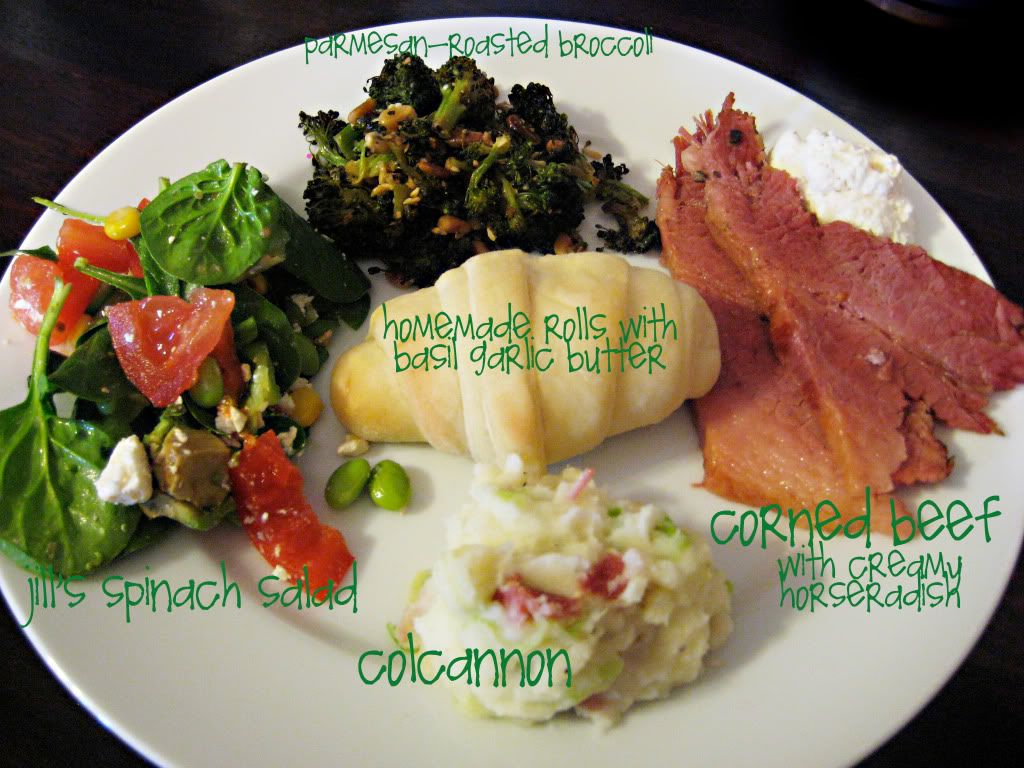 I just love St. Patrick's Day dinner. This year I tried only one new recipe- it was for Colcannon, and it was definitely a hit. I made quite a few changes from the original recipe I found- so here they are below:

Colcannon
Adapted from the Food Network
Ingredients
3 pounds potatoes, scrubbed
1 stick butter
1 cups hot milk
Freshly ground black pepper
Salt

1/4 head cabbage, cored and finely shredded
1/2 lb. bacon, fried and coarsely chopped

Chopped parsley leaves, for garnish
Directions
Peel and roughly chop potatoes, and boil them until tender for about 15 minutes. Mash thoroughly to remove all the lumps. Add 1 stick of butter in pieces. Gradually add hot milk, stirring all the time. (I only needed a little less than 3/4 cup of the milk.) Season with a few grinds of black pepper and a teaspoon or so salt.
Boil the cabbage in unsalted water until it turns a darker color. Add 2 tablespoons butter to tenderize it. Cover with lid for 2 minutes. Drain thoroughly before returning it to the pan. Chop into small pieces.
Add cabbage, scallions, and bacon to mashed potatoes, stirring them in gently. Sprinkle with parsley and check for seasonings.
And here's a list of the rest of the players at this year's annual St. Patrick's Day dinner:
Homemade Rolls with Basil Garlic Butter
Buttermilk Pie with Raspberries and Whipped Cream