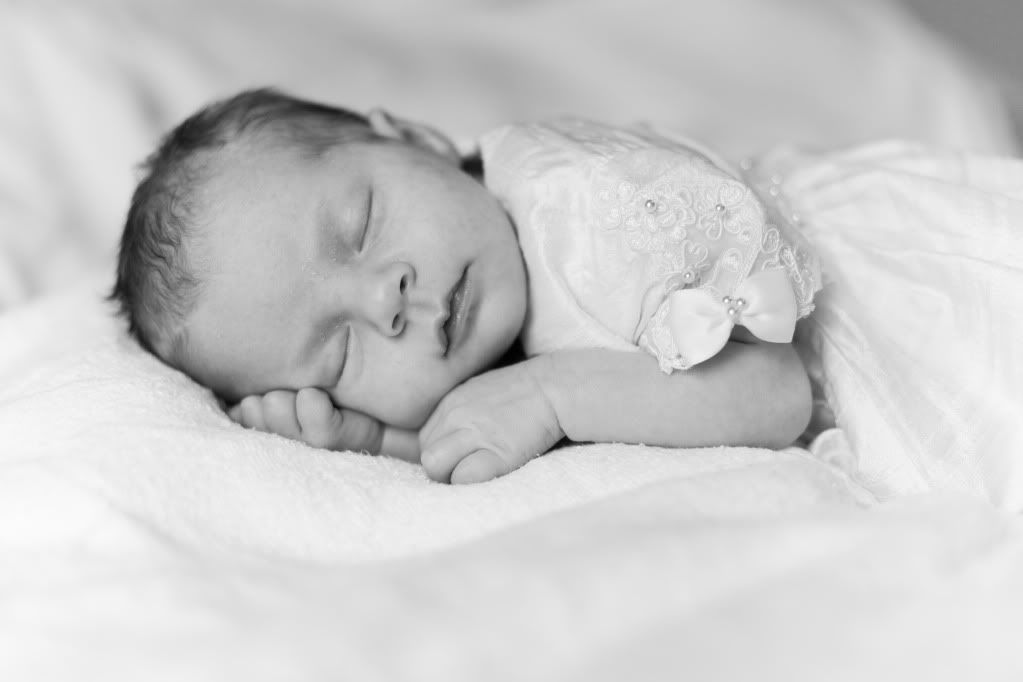 I normally would spend much longer writing a post like this, but since it must be done, it must be done quickly! I have so very little time for blogging these days.
This post may seem a bit more personal than my typical posts. But it's got to be recorded and it's an opportunity for me to share a little of my testimony, which I should probably be doing more of.
Claire's blessing day was perfect. We planned to have it while my mother-in-law Louise was here helping with the baby, and Bobby's brother Wes and his family came, too. I slept as late as I could the night before since Claire woke up at 3 AM ready to party and we were running out of time. Bobby took everyone to the church early and left Sophie, Claire, and I at home to finish getting ready. I wanted to give Claire a bath or at least wash her hair, but I looked at the clock and knew there wouldn't be time. Louise had told me about a baby blessing she was at where the mother of the baby kept the whole congregation waiting because she was "fixing the baby's hair." I did not want to be that person. :) I started dressing Claire in the blessing dress that my Mom made for Franny and all of the sudden I felt so good. My eyes started to tear up. It just felt like my Mom was right there with me watching me as I got Claire ready for her blessing. Sophie started asking questions about the dress so we talked about Grandma for a minute. We put Claire's bonnet on and got in the car to hurry over to the church. As I walked in to the church building I could hear the music playing and once we reached the chapel we quickly found Bobby and sat down. When I realized what they hymn was, my eyes filled with tears and my heart nearly burst:
"I Know That My Redeemer Lives."
My mother's favorite hymn. I've noticed it's often played at meetings I've been at on the toughest days since she passed: near/or on the anniversary of her death, her birthday, Mother's Day... I didn't know it was her favorite hymn until we sang it at her funeral. So I can't hear it without thinking of her. I love this song because it's such a beautiful and descriptive testimony of the Savior. It covers so much of what he does for us. So when I hear this song, I feel so loved by both my Mother and my Savior.
I thought of what I must look like to the people sitting around me: the epitome of the new mother- all emotional and hormonal. I mean, I just walked in, sat down, and immediately started crying. That's so weird! Bobby noticed and asked me if I was okay and I told him it was my mother's favorite song. Soon after that he was standing up and giving our third daughter a blessing as beautiful as the ones he gave our other daughters. He sat down with me and held Claire and we smiled as she spit up just about everything she consumed from her last feeding. He looked at me and whispered how sweet it was that all of our daughters had been blessed in the same gorgeous dress. He asked me if I was going to bear my testimony. I told him I hadn't decided yet- I
was
still a bit emotional and afraid I wouldn't get through it. When it seemed clear to him that I probably wouldn't, he went up to bear his. He talked about how his heart went out to me because I had lost my Mom, how sweet it was to have my mom there with us in a way since she had made that beautiful dress, and then to sing her favorite song- a testimony of Jesus Christ and how he lives to wipe away our tears and calm our troubled hearts. He talked about how touched we were to feel her there on such an important day. I was especially touched to hear Bobby saying all the same things I was thinking without even having the opportunity to discuss them together. So I left that chapel feeling the utmost gratitude. I was grateful for our sweet baby Claire, for family who came so far to be with us, for a righteous husband who knows and loves me, for feeling my mother's presence on that special day, and for my loving Savior, Jesus Christ. I know that He lives.
Family picture taken by Jen. I love the way everyone looks except for me. This pregnancy did a real number on me!
It was fun to share Claire's blessing day with little Henry Holmes. He's so cute! Stephanie and Brendon are some of our favorite people! (Brendon is my brother-in-law Grant's (Julia's husband) brother. So we're practically related.)