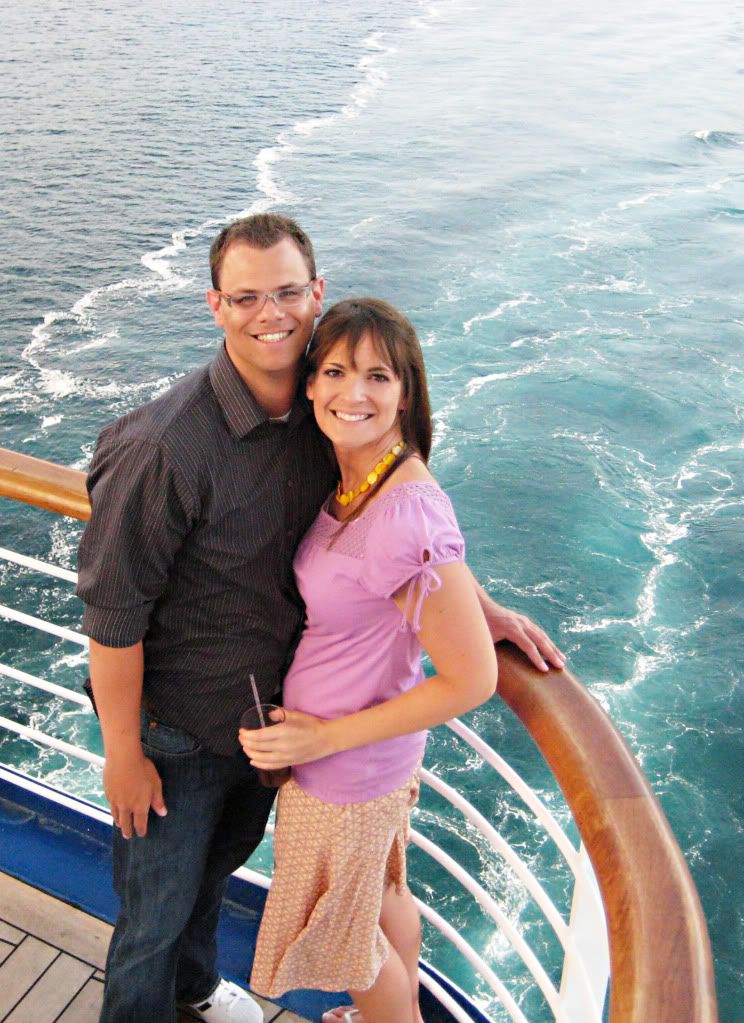 Life on a boat is pretty sweet. I could get used to it.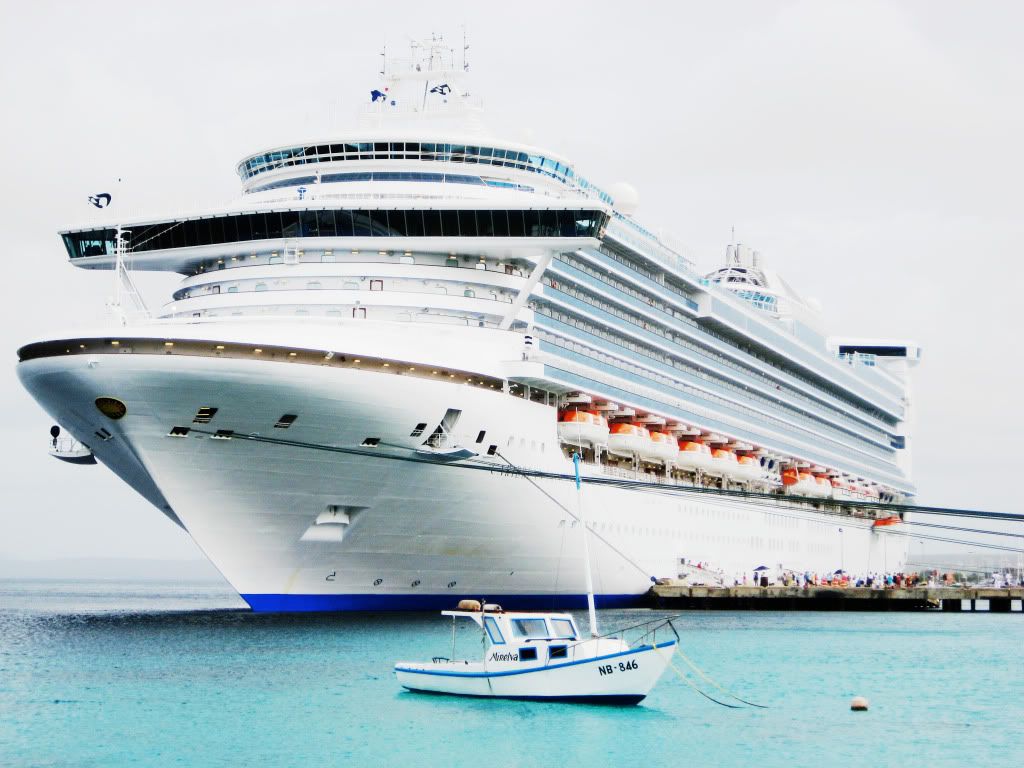 Here's our boat. (I just typed that out as, "Here's our goat." I thought it was funny. I even considered leaving it.) Once as we approached the ship after one of our days at port, Bobby said, "It looks like a skyscraper laid down on it's side." See all those windows wrapping around the front of the boat at the very top? That's the gym. There's a long row of treadmills and elliptical machines lined up so you are looking out the front of the ship at the ocean while you jog. It was AWESOME. I haven't worked out once since I got home. There's just no coming back from something like that.
I absolutely loved having a window in our room. I paid $100 dollars extra so that we could have a window in our room, only to find out that I had purchased a room with a "fully obstructed view." What the what?! I was so mad at myself for wasting the money, but we totally lucked out. Our window was behind a lifeboat, but we were on the side of it, so our view was basically unobstructed as long as we stood slightly to the right when looking out the window. I love Bobby for humoring me when I asked to take this picture.
Wait a minute, what's Justin doing out there? ;)
Our rooms were cleaned twice a day. The first night they left chocolate-covered strawberries for us, and every night after that we had chocolates on our pillows and a turn-down service.
The entertainment on the boat was good. Justin and I both volunteered to be hypnotized. It didn't work for me- I think the problem was I was over-thinking it. I was totally paranoid that I was going to wet my pants! And you all know my history of embarrassing moments, so my imagination was running wild with possible scenarios which might bring me and my family completely humiliation. So I didn't make the cut. Justin was AMAZING. So hilarious. I can't remember the last time I laughed that hard. There were a couple comedians on the ship that were definitely worth writing home about. The first guy had more of a self-deprecating kind of humor. He joked about marriage and having teenagers and getting old. I wouldn't want to be his wife or daughter, but he still made me laugh pretty hard. There were two jokes of his that I want to remember:
1.) He was talking about how his wife gets mad at him for stupid little things. The most ridiculous fight he's had with her was over an old friend of hers from high school that he ran into. His name was Merlin. When he came home and told her, she was angry with him because he couldn't remember Merlin's last name. So he said, "How many Merlins do you know, you wizard whore?" He said she did not like that.
2.) Then he was talking about how angry his wife gets at him for being such an embarrassment when they're out in public. He joked about hoping the paparazzi wouldn't find out that he had farted in the dollar store. (For the record, I hate that word. We don't say it in our house. Somehow I didn't think "boofed" would make the same impact.) It was so funny. I wish I could remember exactly how he put it.
The other comedian had a totally different style. He used a lot of magic tricks and he was really hyper and energetic and as a result extremely entertaining. At the end of the show, the cruise director came up to the stage to make some announcements and the comedian popped his head through the curtain and made some funny faces at her, then disappeared before she noticed. After she turned her head back around toward the audience, he popped his head out again, only this time from underneath the curtain so he could peek under her skirt! Of course that got a huge reaction from the audience and the cruise director caught him and freaked out! She was really embarrassed and couldn't stop laughing. If it was part of every one of his three shows that night, she's a pretty good actress. She said, "Maybe I should have worn trousers." Then the comedian popped out of the curtain a third time and said, "Maybe you should have worn panties" then made a gesture with his hand up near his hear and whispered "call me," a flourish he had perfected through the course of the performance. It was so funny.
We all sang karaoke. Paul was the only one who sang solo. And rightfully so, considering he probably has the best voice out of all of us. The three guys sang a Red Hot Chile Peppers song and after twenty minutes of discussion, we three girls settled on
Joy to the World
by Three Dog Night. We get up there to start singing and they start playing the traditional Christmas version of
Joy to the World
. Luckily we had a backup and ended up singing
Oh-Bla-Di, Oh-Bla-Da
.
The food. Oh, I think maybe the food deserves it's own post, so I'll come back to that later.
Another one of my favorite ways to pass the time on the boat was laying out on the lounge chairs near the pool in front of the giant movie screen. Our first and only day at sea, we all met outside in the morning, scouted out six chairs (which was quite the ordeal) so we could all hang out and watch
Baby Mama
. It's getting close to show time, and a trailer for Mamma Mia! comes on. Justin turns to me and asks, "Are we watching
Baby Mama
or
Mamma Mia
?" I said, "Oh Justin, I wouldn't make you three guys watch
Mamma Mia
." Well, the movie of the day was in fact
Mamma Mia
. There was a misprint in the newsletter the night before. I felt so bad! (I happen to love
Mamma Mia
, so we stuck around and watched it for a while anyway.)
I took a nap almost every day. Sometimes it was in our room before dinner, sometimes on the lounge chairs on the boat, and once on the beautiful beach in St. Thomas. Now maybe I'm just easily pleased, but to me, the ability to take naps like that seems like the ultimate in luxury.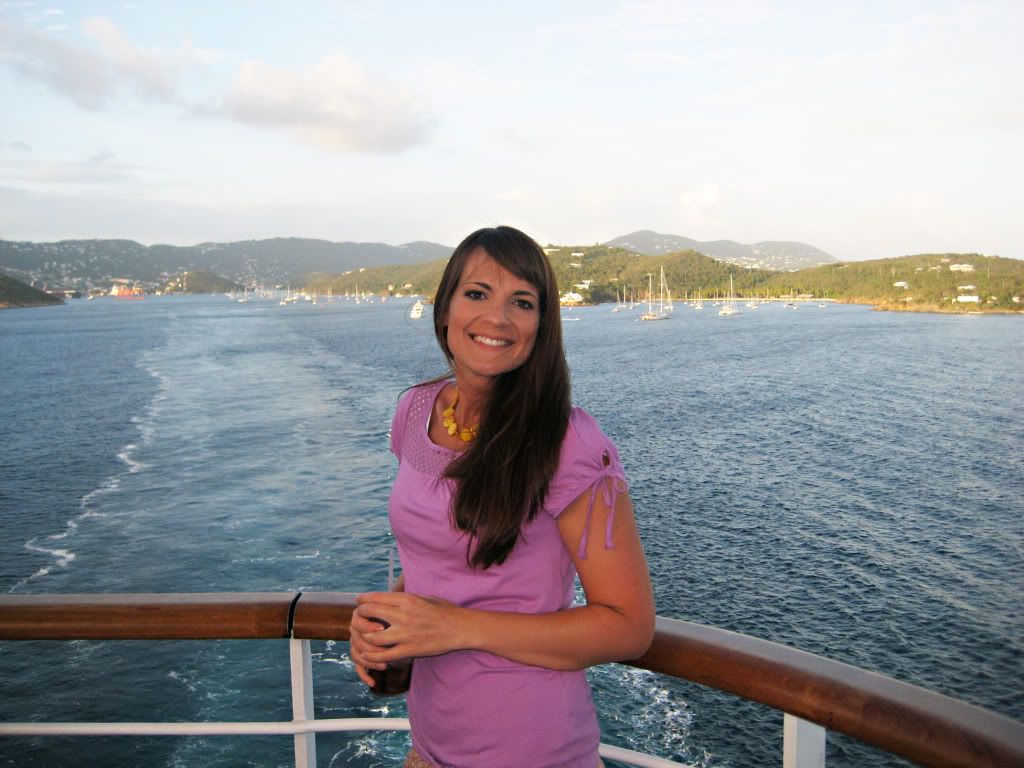 So, when can I go again?