With Franny in school all day every day and just having Sophie at home, I'm usually able to keep up on all the household stuff and reserve Saturdays exclusively for having fun and playing with Franny. Saturdays wear me out, but I love them- especially now that the weather is nice and there is so much we can do. I thought I'd post some pictures and video of all the fun we had. (I think I'm getting carried away with the videos and for that I apologize- it totally contradicts my motto which is: "
always leave them wanting more
.")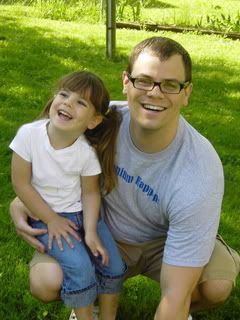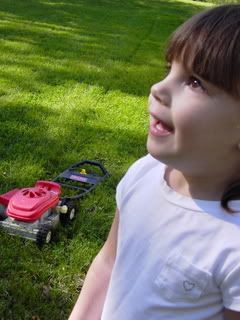 Before Bobby left to study for finals, he and Franny mowed the lawn. I took some video. She stays out there with him the whole time, following him everywhere and pushing her little toy lawn mower. It is so sweet.
Then we had a playdate with Jill, Alyssa, and Grant. We met at McDonald's for Happy Meals and then we came back to our house to swim. We all had so much fun. (Thank you Bobby for putting off studying long enough to help me get the pool inflated! Believe it or not, I was trying to blow it up myself with my mouth until Bobby rescued me with a hand pump.)
After Sophie's nap we went to the park where Franny played with a friend who just happened to be there with his mom. We headed back home and two of Franny's friends, Gracie and Parker, came over to play while their Mom and Dad went out to eat. They all had a great time in the pool and here's some video of Gracie and Franny dancing. It was so cute. We've always known Franny is a great dancer, but Gracie really surprised us with her sweet moves.